This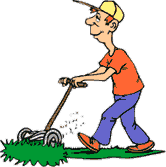 is the place for Lawn Care Information.You will find information
                  here on establishing and maintaining a beautiful    lawn. 
Proper Mowing
 Mowing is the most misunderstood part of lawn care, and the most often incorrectly performed part of lawn care. Far too many people will set their mowers too low and "scalp" the lawn. This leads to thin and dying grass, shallow root systems, and in the long run, NO GRASS at all. 
    Mowing correctly is essential, but equally essential is that the clippings remain on the lawn. It has great nutrient value and adds humus to the soil. Mowing should be done every five days during the rainy season and every ten to fifteen days during summer.
                                                       Weed Control

    Weeds are defined as a nuisance plant growing where it does not belong. Controlling weeds in a new or existing lawn is vital to the health and overall appearance of your lawn.
If your lawn does not have many weeds the easiest way to control them is by pulling them by hand. The important part of weeding by hand is to make sure that the entire plant is removed--plant, roots, runners and all.
   For heavier weed infestations chemical applications may be required. A pre-emergence herbicide will help control weeds before they have a chance to sprout. Depending on your location apply pre-emergence herbicides in the spring or fall to stop weed seeds from sprouting. Once weeds are established, pre-emergent herbicides will NOT work. For broadleaf weeds such as clover and dandelions, a post-emergent herbicide will be required. These can be applied as a spray or incorporated with a fertilizer as in a weed-n-feed product. But, as always, check with your local garden store to determine which product is right for your lawn.
    A beautiful lawn gets it's well manicured look from it's smooth appearance, having no visible signs of weeds rising above the lawn.  A weed free lawn holds it's good looks between mowings, and allows you to enjoy the durability and beauty of your lawn                    
                                                                  Aeration

    Sometimes the best thing for a beautiful lawn is just a little breathing room. And that's where aeration can help. Lawn aeration removes cores of soil and aids in the removal of thatch from your lawn, making it easier for air, water, and fertilizers to reach your lawn's root zone. This stimulates root growth and creates a healthier, stronger lawn.
  
Aerating increases the activity of soil microorganisms that decompose thatch.

Aerating increases water, nutrient and oxygen movement into the soil.

Aearating stimulates root growth.

Aearating  enhances infiltration of rainfall or irrigation.

Aerating helps prevent fertilizer and pesticide run-off.

Aerating increases the density of the lawn.
                                                     Watering
    Once you have achieved the perfect lawn, after spending hundreds or even thousands of pounds on renovating an existing lawn or installing a new lawn, it just doesn't make sense to let it go back to the way it was because of the failure to water.
Do yourself a favor and spend a little time and money and keep your lawn watered and you will keep the lush grass you spent your hard earned money and valuable time on. 
   Mother Nature doesn't always do her part in keeping your lawn well watered. That's where you must step in and pick up where Mother Nature leaves off.
The ideal way to water your lawn is with an Automatic Underground Sprinkler System. This way the watering is done every day that your lawn needs it, and you don't have to drag hoses around, you don't wastewater 
by overwatering, plus you water all of the lawn, not just where you happen to set the sprinkler. How many times have you started the sprinkler then forgot to move it? This wastes water by watering only some parts of the lawn while other parts  never get water because it's too far to drag the hose. Another common problem in hand watering is that you can only run one or two sprinklers at a time. If you have a very large lawn, it could take all day to water it. Automatic systems will water your lawn at a time of your choosing. when you program the system to come on.       
    Shrubbery and annuals need to be watered separate from the lawn. An automatic system waters landscape plants in their own zone and only at the times they need it.
                                                     Mulching
Applying pine straw and mulch serves several purposes. It provides temperature control for the soil, helps to retain moisture, reduces weeds, protects plants from disease, and when organic mulch is used, it improves the soil texture, adds nutrients as it decomposes.
    Also, light-weight mulch such as dried grass clippings and pine straw can be used temporarily to cover low-growing tender plants to protect them from frost injury.
    But, mulches also add to the beauty of the landscape by providing a cover of uniform color and interesting texture to the surface.
                             Here we have some more pictures



FINE COMPOST:



Composition:
Sawdust & Chicken Manure

Application and Benefits:
General Compost
Fine planting & Gardening
Enrich soil quality  

MEDIUM COMPOST:



Composition:
Peat, straw, vine skins, vine stems & chicken manure

Application and Benefits:
High humus content
Sandy Soil conditioner
High water retention  

COARSE COMPOST:



Composition:
Pine peelings, shavings & chicken manure

Application and Benefits:
Clay soil conditioner
Enrich soil quality  

TOPSOIL/COMPOST MIX:



Composition:
Mixture of topsoil & fine compost

Application and Benefits:
Adding volume to flowerbeds
General filling medium
General planting medium  

POTTING SOIL:



Composition:
Fine compost, river sand, organic compost
& topsoil.

Application and Benefits:
General use in pots & plant pockets
Planting seedlings
Medium for use in cuttings
Rich in micro organisms  

LAWN DRESSING:



Composition:
Fine compost, river sand & topsoil

Application and Benefits:
Top dressing for grassed areas
Leveling of grassed areas  

ORGANIC COMPOST:



Composition:
Green recycled material composted with
the CMC method (Controlled Microbial
Compost)

Application and Benefits:
Certified by SGS
No enhanced Nitrogen products
Enriched with micro organisms
All purpose compost
Rich in humus  

BARK:



Composition:
Pine nuggets

Application and Benefits:
General mulching with higher esthetic value
Excellent for roses
Helps prevent flowerbeds from drying out
Keeps weeds at bay  
MULCH:

Composition:
Pine peelings & chicken manure

Application and Benefits:
General mulching
Helps prevent flowerbeds from drying out
Keeps weeds at bay
Esthetic value not as high as in bark  


                      

                                    Just a few of the services  that `Just Can Do`  offer:

Structural Fabrication
Framework
Gates
Stainless Steel Fabrication
Railings / Wahing lines

Our Welder has over 35 years service of welding Steel Fabrication,Just give us a call




HERE WE HAVE SOME MORE PICTURES FROM OF OUR WORK

As you can see from the before and after pic`s.We pride ourselves in our work

 

           Before Power Wash

                          After

                                                     SPRING

 Spring is a good time to check the condition of your wooden privacy fence or deck so you get the most enjoyment during the warm season. The harsh winter weather, ice, rain and even sunlight can be damaging to your fence and deck. Every two to three years homeowners should assess these surfaces. Fixing your garden's fence and deck can seem like an intimidating project, but the good news is with a little work and the right tools we can restore your fence or deck for you and make it look great again.

 
 PAINTING
Tired of that old, dated wallpaper? Need to freshen up the living room? Kitchen Cabinets need a face lift? Just Can Do can help you transform the interior of your home or business into the look have always dreamed of. Our unsurpassed quality, incredible attention to detail, and commitment to one of a kind `Just Can Do` service will give you the results that you are looking for. Whether you are considering one room, a few rooms, or the whole house or business, we can provide the level of craftsmanship you will be proud to show off!
Our Interior Painting Services include:
Interior Painting
Bedroom Painting
Kitchen Painting
Family Room Painting
                          Well chosen collection of paint colors can revitalize every surface of your home, from the walls and ceilings to the exterior siding and trim. An entirely new look is possible, but with thousands of house paint colors dozens of manufactures and many sheens to choose from the possible combinations of house painting colors can be mind numbing.                 
                                               SAFETY OF JUST CAN DO
The safety of yourself and those around you is extremely important. Do not cut corners or sacrifice safety, DIY can be dangerous! although you may be thinking I am being over cautious here, I am not. Children and animals for instance very often have no perception of danger until they are missing a limb or worse!
DO NOT PUT YOURSELF OR OTHERS AT RISK!
Balancing on a window ledge is not a good Idea!!!!!
IF YOU DO NOT UNDERSTAND SOMETHING THEN ASK, IT IS LESS EMBARRASSING TO ASK THAN TO EXPLAIN YOUR RESULTING INJURIES TO THE PARAMEDIC!
ONLY USE TOOLS WHICH ARE FIT FOR PURPOSE- DO NOT FOR EXAMPLE OPEN TINS OF PAINT WITH A CHISEL, USE A SCREWDRIVER- A CHISEL MAY WELL REMOVE THE LID FROM THE PAINT EASILY BUT IT WILL JUST AS EASILY STICK THROUGH THE PALM OF YOUR HAND!
NEVER RUSH, TAKE THE TIME TO DO A JOB CORRECTLY, IF A JOB IS WORTH DOING THEN IT IS WORTH DOING CORRECTLY!